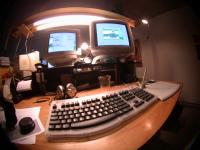 The popular social networking website, Facebook, has revealed that Denmark is the nation with the most users on its site. More than a third of all Danish Internet users have a profile on Facebook, giving it top ranking among the world's countries.
However, IceNews reported earlier this month that nearly half of all Icelanders are registered on Facebook, including almost 96 percent of 20-29 year-olds. Our attempts to contact Facebook for a clarification on this issue have so far proved unsuccessful.
The Berlingske Tidende newspaper reports that of the 5.5 million citizens in Denmark, 1.8 million of them are registered on Facebook. This represents 34 percent of the entire population, placing it slightly past Canada, where 33 percent of the country has logged onto Facebook.
In a survey conducted by the IT company Komfo, they discovered that most of Denmark's Facebook users are middle-aged or elderly. This could present some special challenges for Facebook in Denmark, as "the older users demand greater quality of content," claims Komfo chief executive Rasmus Moller-Nielsen.
Danish Prime Minister Anders Fogh Rasmussen made thorough use of Facebook during his 2007 election campaign, claiming more online "friends" than his opponent in the race, Helle Thorning Schmidt of the Social Democrats. Facebook was created in 2004, but only became really popular in Denmark a couple of years later. But in the last year or two the social networking site has really exploded in the country.