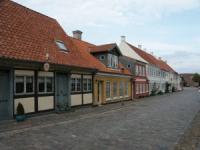 A Palestinian gunman shot and injured two Israeli men who were working at a shopping centre in the Danish town of Odense, 105 miles west of Copenhagen. Both Israeli men were in their 20s, according to police spokesman Lars Thede, who refused to speculate on the likelihood that the shootings were a response to Israel's attacks on Gaza.
Although the gunman escaped in a vehicle, Danish police arrested a 27 year-old Palestinian man the following day and charged him with attempted murder. The man had turned himself in. The two victims had only been in Denmark for a week. They were selling hair products at the Rosengaard Centre in Odense, and had been harassed several times by a group of men, according to the Ritzau news agency. The mall was packed with holiday shoppers when the shooting occurred.
The shooter is a Danish citizen who was born in Lebanon. He pleaded innocent to the shooting but admitted he possessed a gun. The judge then ordered the rest of the hearing to be held without any media presence.
The two Israeli men are recovering from their gunshot wounds, which were not life-threatening. Chief Inspector John Jacobsen told the Ritzau news agency that they were looking into every possible motive for the attack. But seeing as Israel launched an offensive against Gaza five days prior to the shooting, the motive would seem to be clear.