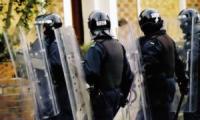 The giant squatter city in the heart of Copenhagen known as Christiania was the scene of clashes with local police over plans by the city to tear down an illegal building within the "free city." More than 300 residents put up burning barricades and threw petrol bombs at police after they demolished the illegal structure.
The AP news agency reported the scene along Christiania's main street, Princessegade looked like something from a guerrilla war zone, as protestors taunted the police and set fire to just about any piece of rubbish they could get their hands on. Tear gas was volleyed back by police to try and disperse the crowds, at least three of whom were arrested, according to Copenhagen police spokesman Flemming Steen Munch.
The clash stemmed from the demolition of a house that had allegedly been illegally built on the old ramparts of Copenhagen, a historically protected site. Christiania is the epitome of social controversy, having been founded in 1971 as a hippie community in an abandoned military barracks by Danish hippies.
It has been a political hotspot for years, as some see the enclave as an interesting social experiment where liberal social attitudes and personal freedoms take precedence over commerce and bureaucracy, and others as simply a den for drug addicts and criminals. Yet somehow Christiania has survived nearly 40 years, and is now home to more than 1,000 artists, misfits, and activists who have established a thriving business scene within the community.