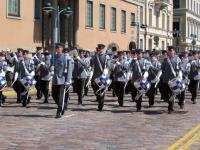 As a result of the brief August war between Russia and Georgia, the US and Russia agreed to meet in Finland to try and find some common ground as the relationship between Russia and the West grows increasingly tense. With a US plan to place parts of its proposed missile shield in Eastern Europe, and Western nations' disapproval of Russia's conflict with Georgia, there was plenty to discuss.
Relations between the West and Russia haven't been this strained since the Cold War era of the 1980s. General Nikolai Makarov, head of the Russian General Staff, and Admiral Michael Mullen, chairman of the Joint Chiefs of Staff, sat down together outside Helsinki, Finland to talk about the Caucasus, naval exercises in the Black Sea, and other sensitive issues.
According to Navy Captain John Kirby the summit's tone was positive, even though, "They did not agree on every issue, nor did the chairman expect them to. The relationship between our two militaries has certainly been changed by events in Georgia." This was the first face-to-face meeting between the two nations' current top-ranking military chiefs.
After returning to Moscow, Makarov reported that the meeting had been, "Totally open, honest and substantive," according to the Star Telegram. Both sides agreed that cooperating on global terrorism, piracy, weapons of mass destruction, and drug trafficking were major issues that needed constant attention.