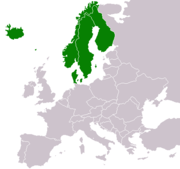 The Central Bank of Iceland said it drew 400 million euro (543 million dollars) in accordance with a mid-May agreement it made with the central banks of Sweden, Norway and Denmark, the Earth Times reported.
Each swap facility arrangement provides the Icelandic central bank access to 500 million euro against the Icelandic currency.
Anders Fogh Rasmussen, the Danish Prime Minister, said that the Nordic neighbours of Iceland were preparing to help the country financially.
Rasmussen refused to get into details but said the neighbouring Nordic states were prepared to offer "more than just moral" help.
Denmark, Finland, Norway and Sweden along with Iceland belong to the Nordic Council organisation.