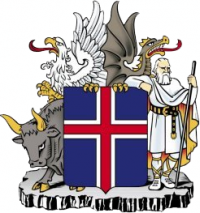 The Icelandic government is said to be angry at the approach of the British Prime Minister Gordon Brown concerning depositors of Landsbanki. (Read IceSave customers to get UK support).
Prime Minister Geir H. Haarde, who held a press conference this afternoon, compared the approach of "further action", mentioned by Brown, to terrorist law which would be irrelevant if applied to Iceland. Haarde had a discussion with British Chancellor Alistair Darling earlier today, who seems to agree that such steps were premature and hot-headed. They both agreed that a team will be sent to Iceland to settle this matter as well as attend IMF talks this weekend.
Haarde then called for the cooperation of the governments of the countries involved.
The Icelandic Central Bank has got backup reserves available for transactions in foreign currencies. Haarde's governement promised that all steps will be taken to ensure that foreign nationals working in Iceland as well as employees in foreign branches will be paid.
"Many people in the banking industry will be losing their jobs and it seems people will be losing substantial fortunes as well as just shareholders' investments," said Haarde. He added that the Icelandic government will do its best to minimise the losses in these difficult times of the worst financial crisis Iceland has ever seen.
Kaupthing is hoped to survive and continue normal business. Iceland's guarantee to Kaupthing abroad will be different for subsidiaries and branches. In some cases the hosting country is responsible for such guarantees.
Some parts of Landsbanki will continue to work for import and export activities.
Haarde reassured that if the guarantee of the Depositors' and Investors' Guarantee Fund is not sufficient, the National Treasury will step in, as stipulated in the contract with the EU. Deposits of the assets are covered by the state.
Haarde repeatedly emphasised the fact that this is not national bankruptcy as the worldwide press has been presenting in the past days.
Read more on financial crisis in Iceland on IceNews:
IceSave to be covered by mutual agreement
IceSave customers to get UK support
IceSave customers consoled by Iceland PM agreeable solution sought
Iceland economic update: full analysis