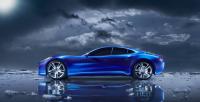 In the latest move to expand the range of hybrid electric cars available to US consumers, Finnish car manufacturer Valmet Automotive announced a deal to build a new plug-in hybrid sports car at its factory near Helsinki.
A preliminary deal has been struck with US-based Fisker Automotive Inc. to build the company's first production car, the Fisker Karma. Manufacture is scheduled to begin sometime in late 2009.
Fisker Automotive's plans are to manufacture 15,000 of the plug-in sports cars at the Uuskiaupunki plant 240 kilometres north of Helsinki. The plant, owned and operated by Valmet Automotive, employs about 800 staff.
The first cars should be ready for North America by the end of 2009. Delivery is planned for Europe sometime in 2010. The new Fisker Karma can travel up to 80 kilometres on a single charge. Retail prices have been set initially at €50,000.
Valmet Automotive also produces Porsche AG's Boxster and Cayman models. But the luxury German sports car company has said it will move production to Austria in 2012. The new deal with Fisker is expected to create several hundred new jobs for the local economy once production reaches full capacity.