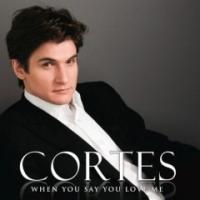 Icelandic classical singer Gardar Thor Cortes has released his second album 'When You Say You Love Me' this week.
Cortes is a rising star in the UK following a No. 1 selling album, a string of sell-out tours and a Classical BRIT Award nomination. His self-titled debut album 'Cortes' was top of the UK charts for 3 weeks in 2007 and was the fastest-ever selling record in Iceland.
The Icelandic tenor has also performed with Katherine Jenkins, Lesley Garrett, Natasha Marsh and Dame Kiri Te Kanawa on a number of worldwide tours.
Using the same writing team that worked on his debut album, Cortes' latest release 'When You Say You Love Me' is a blend of classical music with a few contemporary tracks.
The album will feature opera favourites such as 'M'appari Tutt Amor' from Martha, 'Pourquoi Me Reveiller' from Werther, 'Com'e gentil' from Don Pasquale, modern favourite 'She' from Notting Hill and a duet with Natasha Marsh of 'The Prayer'.
The album will also include new material specially rearranged for Cortes including 'Mama' and 'Autumn Leaves' and the classic Icelandic lullaby 'Sofdu unga astin min'. The leading track 'When You Say You Love Me' will be the first single to be released from the album.
The album can be purchased online from Play.com and at Amazon.co.uk.
For more information on the new album and upcoming Cortes events the UK, USA and Asia, visit: www.officialcortes.com