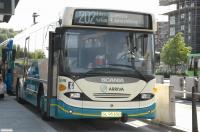 Stockholm residents and visitors awoke to a chaotic commute and transportation around the city Tuesday morning after bus drivers went on strike from Monday night.
People have been advised to use rail routes, bicycles, and their own feet as the city's biggest transport network was pulled out of action, with the exception of services committed to the rail repair link between Nynashamn and Vasterhaninge.
No negotiations have been taking place between the bus drivers' union Kommunal and the company, Bussarbetsgivarna. The strike is threatening to expand to Vasterbotten County if an agreement isn't reached by July 8th, followed by Skane County on the 15th.
Both Taxi Stockholm and OKQ8, a car rental firm, expects the results to be 'hectic', with cars fully booked out and the reduced taxi summer service under pressure.