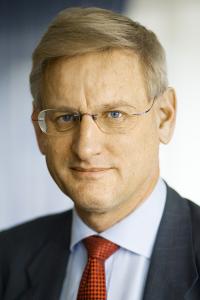 The growing cacophony of condemnation against the Zimbabwe government, who this Sunday re-appointed Robert Mugabe to a sixth presidential term despite a deeply flawed election, was aded to from Sweden's foreign ministry.
Minister Carl Bildt reacted immediately yesterday by condemning the re-election of Robert Mugabe as president after the process was unanimously declared 'not free and fair' but international observers which included a statement from African Union (AU) monitors. He has urged African countries, whose leaders are attending an AU summit in Egypt this week, to take an active role in re-establishing democracy in the southern African country.
"I note that today Robert Mugabe has forced the implementation of a second round of elections in defiance of both the international community and democratic decency," Bildt commented in a statement.
"The Zimbabwean regime has now deliberately driven the country and its people into a state-supported culture of violence, characterised by massive violations of human rights," he said.
Mugabe, who has ruled the southern African country since its independence from Britain in 1980, has become deeply unpopular due to disastrous nationalist-led economic policies, resulting in hyper inflation of 150,000 percent. He was defeated by opposition leader Morgan Tsvangirai in the first round, but managed to force a second round during which state sponsored violence and intimation from ruling party Zanu PF supporters forced the boycott and retirement of his rival.
Since its independence, Zimbabwe has been a recipient of generous aid from Sweden and was once described as the breadbasket of Africa, but has now become a 'basket case'. Bildt expressed his sympathy for the people of Zimbabwe, who he feels have suffered unnecessarily because of Mugabe's actions.
According to Bildt, Zimbabwe's neighbours in the Southern African Development Community (SADC) must take "responsibility for re-establishing democracy, human rights and the principles of the rule of law."
He also urged the African Union to take a public stand against Mugabe and clarify that they no longer consider him to be the president of Zimbabwe.