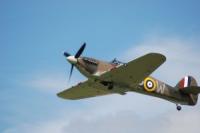 In June 1940, just a few days before the Soviet Union annexed Estonia, an airliner from Finland crashed into the Baltic Sea. Today, experts from the U.S. navy are searching for the wreckage and for answers, according to reports by the Associated Press.
There were nine passengers on board the airliner when it went down and among them was a diplomat from America. The American courier is now seen as one of the first American casualties of the Second World War.
According to experts from Estonia and Finland, the Kalea, a small plane, was shot down on June 14th by Soviet fighter bombers. The plane had taken off from Tallinn only ten minutes earlier and was flying towards Helsinki, Finland.
The experts believe the aircraft's wreckage is located under 90 metres of water, near the island of Keri.
"If the aircraft is in the area where we're searching, I'm highly confident we'll find it," said Martin Ammond, a member of the search team on one of the Navy's oceanographic survey vessels.
The Kaleva was operated at the time by Aero, a Finnish company which later became Finnair.
The 27-year-old diplomatic courier was Henry Antheil, who was working at the U.S. Embassy in Helsinki. From 1933 to 1939 he worked in Moscow.
A spokesperson for the U.S. Embassy, Eric A. Johnson, has researched the Kaleva case extensively. "Henry came here to help evacuate materials from U.S. Legation in Tallinn," he said.
"It was feared that Soviets would come anytime, so all the sensitive materials had to be removed. He was doing a job for his country," he said.
The case has been shrouded in mystery and diplomatic secrets for years but if the wreckage is uncovered, a number of questions may be clarified, which is what is sending American ships out into the deep.