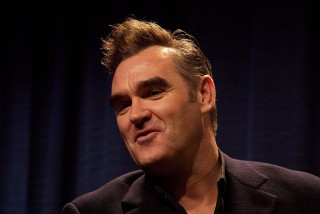 Morrissey fans in the Icelandic capital Reykjavik will no longer get to see the musician in action after he scrapped plans to play at the city's Harpa Concert Hall because it refused to stop selling meat products on the night of his gig.
The musician has built up a reputation over the years for cancelling concerts, while he is also renowned for his strong views on vegetarianism, meaning his request for the venue to stop selling meat during his concert and the ensuing cancelation were hardly surprising.
Morrissey's concert in the Icelandic capital had yet to be confirmed, but the musician had earmarked the popular Harpa Concert Hall as his preferred venue. However, plans hit a stumbling block when the top dogs at the arena refused to comply with his demands to only sell vegetarian products on the evening of his performance.
The musician, who makes the same request at every venue he plays at, has since said that he loves Iceland and has wanted to return for a long time, but will not be doing so because of the Harpa Concert Hall's "cannibalistic flesh-eating bloodlust".
Furthermore, it seems there are no other venues available in the Icelandic capital on the proposed date so Morrissey will, for now, not be returning.