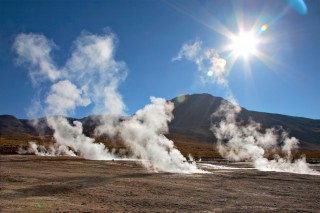 As Iceland's ice caps continue to melt as a result of global warming, the country is said to be rising by as much as 1.4 inches a year, according to a research team from the University of Arizona.
Although scientists have been studying the fast-rising crust for many years, it is only recently they have discovered the rising crust is directly related to the melting glaciers. The recent research concluded that the uplift coincides with the beginning of warming, which started around three decades ago.
University of Arizona geosciences doctoral candidate Kathleen Compton, the first author of the research, explained that the team started using GPS technology to measure how quickly the crust was rising in 2006. She said they had 62 GPS stations located across the country and recorded the speed at which they were moving upwards over the years.
She revealed that the crust was rising particularly quickly in central and southern Iceland, while it was also speeding up over time – in some locations by up to 1.4 inches a year.
Co-author Richard Bennett, an associate professor of geosciences at the University of Arizona, noted that the new figures were significant as they have shown a direct link between volcanic activity and the rising crust. He said that scientists now believe volcanic eruptions, such as the one at Eyjafjallajokull in 2010, could occur more frequently.
The ice cap-covered Eyjafjallajokull volcano caused huge disruptions for millions of air travellers when it erupted in 2010, with many flights having to be cancelled. In August last year, another Icelandic volcano, Bardarbunga, started erupting, and it is still doing so to this day, while its lava field is now estimated to be 46 feet deep at its western point.