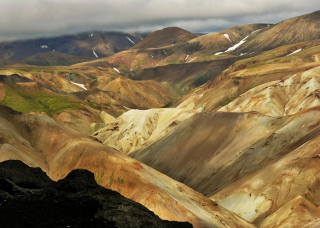 National Geographic has recently named the Laugavegurinn/Fimmvörðuháls Pass, which is a part of Iceland's Laugavegur trek, as one of the world's 20-best hiking trails.
According to National Geographic, the trail has been reopened since it was closed in spring 2010 due to the eruption of the Eyjafjallajökull volcano. In fact, the eruption has shaped the trail as the new volcanic rock has carved new paths for hikers.
National Geographic explains that the recent volcanic destruction is a part of the route's appeal, especially for the new twin craters, Magni and Móði, which were named after the sons of Thor.
TREK is offering its guided Grand Laugavegur hiking tour across the Laugavegur trail between 20th June and 19th September. Each hiking tour is set out across 8 days, which includes 7 nights in the mountain huts along the route.
As part of the hike, you will start in Landmannalaugar and make your way towards the crater-lake, Ljóti Pollur, then to the most colourful of Iceland's volcanoes, Brennisteinalda, with its superb views over the whole of the Landmannalaugar area.
From there, you will embark on a new adventure across the Laugavegur and Fimmvörðuháls Pass. Expect to experience lava fields, obsidian lands, caramel-coloured mountains, black sands, and sparkling white glaciers.
Guides at TREK will ensure that you don't miss the best sights along the way, explain the scenery around you, and discuss the geological history of Iceland.