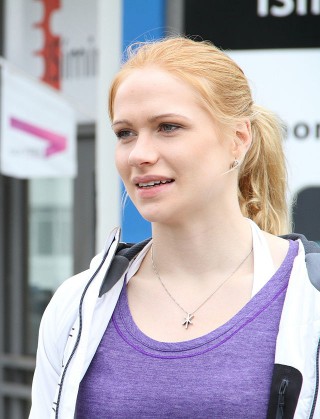 Annie Thorisdottir has said that rigorous workouts six days a week and a strict low carb Paleo diet are the reasons she has been able to dominate CrossFit in recent years.
The Icelander, who won the CrossFit Games in 2011 and 2012, said that the sport had changed her life for the better in so many ways. She revealed that her family do the sport and that she met her boyfriend through it too.
The super-fit star, who loves to swim and cycle when not CrossFit training, explained that the sport was about challenging herself and living a healthy life. What may sound like Hell to the average person is exactly what drives on Thorisdottir, who works out for between 90 and 120 minutes two times a day, six days a week.
Her workouts include mobility training, metabolic conditioning and heavy weightlifting (she can lift an incredible 363 pounds), while she is also a coach at CrossFit Reykjavik, a gym she co-owns in the Icelandic capital.
It's not only the workouts that have got the 148-pounder in the shape she is, the low carb Paleo diet has also played a part. The diet places emphasis on healthy fats, high-quality animal proteins and non-starchy vegetables, while excluding sugar, gluten, processed foods, legumes and dairy. Alcohol is also off the menu.
Thorisdottir revealed that her diet consists mainly of fish, meat, chicken and vegetables, while she stays clear of past, potatoes, bread, rice and sugar. However, she admitted that she does eat dairy products, in order to give her the calories needed for her workouts, adding that the high-quality dairy products in her homeland were something she enjoyed.
After winning the 2011 and 2012 CrossFit Games, Thorisdottir was injured for the 2013 edition and came second in 2014. She is now aiming to win her third title in 2015 and once again be crowned the "Fittest Woman on Earth".