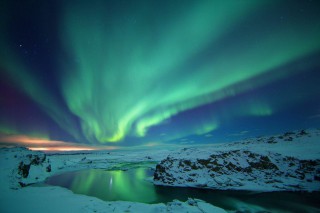 The Northern Lights, which are one of Iceland's key attractions, have been voted as the number one thing to experience in 2015, according to a recent survey conducted by GE Capital Direct 1.
The survey listed the Northern Lights as the top thing to see in 2015, alongside visiting the Grand Canyon, swimming with dolphins, and visiting the Niagara Falls.
Iceland is known for its amazing Northern Lights shows as they occur most frequently in the Arctic Circle, and, due to Iceland being just outside the Arctic Circle, the Island is an ideal viewing location for the lights.
With this in mind, tour provider in Iceland Reykjavik Excursions is offering a selection of Northern Lights tours for the remaining winter months until 15th April.
As part of the company's tours, Reykjavik Excursions' guides will take sky-gazers to locations with the best viewing possibilities, dependent on weather. Here, lucky viewers will get the chance to experience the dancing lights of the Aurora Borealis with the incredible backdrop that Iceland has to offer.
One of the company's Northern Lights tours also takes you to relax at the Laugarvatn Fontana Spa, which holds brilliant open-air geothermal baths perfect for chilling out before going off to hunt for the lights.
Furthermore, Reykjavik Excursions also offers the Highlands Northern Lights Tour, where guides will drive you in a specially modified vehicle (SUV) to one of the most unique places in the world, the Langjökull glacier area. Here, you'll have the opportunity to view the lights surrounded by this beautiful glacier.
To learn more about Reykjavik Excursions' Northern Lights tours, click here.