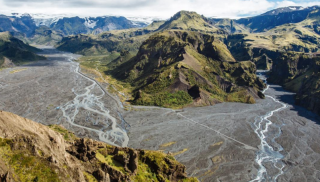 It has been noted that the safest way for visitors looking to travel off road in Iceland are via 4×4 buses, as those who are unfamiliar with Iceland's landscape can often find themselves hitting complications when it comes to river-crossing and other challenges.
Safetravel.is states that the driving conditions in Iceland are often quite unlike what foreign drivers are accustomed to. A common place for accidents to occur is when crossing rivers, which can be deceptively deeper than expected.
Þórsmörk, the beautiful nature reserve and mountain ridge in the south of Iceland, is a popular recreational area, and home to the Krossá river. It is possible to cross the river using a 4×4 vehicle, but due to sudden changes in its water level, it can be dangerous and only suitable for experienced drivers in Iceland.
Reykjavik Excursions is offering a 4×4 bus tour to Þórsmörk, which is the safest way to explore the location without having to chance the crossing of the Krossá river yourself. In fact, it has been stated that travelling in a specially equipped mountain 4×4 bus is a part of the adventure.
The tour is a favourite amongst hikers as it offers good access to endless hiking trails in beautiful volcanic landscape, with views over the three glaciers: Eyjafjallajökull, Mýrdalsjökull and Tindfjallajökull.
For more information about the Þórsmörk tour, visit https://www.re.is/day-tours/thorsmork-adventure-on-your-own