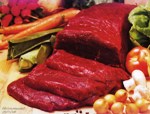 Environmentalists have welcomed the news that a controversial whale meal beer has been banned by Icelandic authorities.
The idea for the beer was dreamt up by local brewery Steðji and whaling company Hvalur. The beverage contained whale meal, something produced when reducing the whales' bones and meat to oil.
Dolphin Conservation spokesman Danny Groves noted that the whaling company were not in possession of the required permit to sell the product, and they are pleased with the outcome.
Icelandic health inspectors banned the beer last Monday on the grounds that it was not in accordance with food production regulations. Public inspector Helgi Helgason explained that Hvalur does not have the required documents to produce whale meal for food production, so they had to ban it.
Environmentalists considered the beverage an effort to open doors to new whale-product markets. Groves pointed out that the current lack of demand in both Iceland and Japan has led whalers to begin searching for new markets. He added that the beer was another example of this these tactics.
The beer was due to go on sale at Iceland's mid-winter festival, where brewer Dagbjartur Árilíusson revealed he wanted to sell an "ethnic" beverage. He had earlier described it as a "dark beer with a rich taste", adding that the "whale taste is present in the aftertaste". He said that not much whale meal is used in the manufacturing and it already existed, but acknowledged that if the final decision has been made then they must accept it.
UPDATE: The whale beer is now back on the shelves in liquor stores across Iceland following a decision by the Ministry of Agriculture & Fisheries after the brewer filed an appeal.