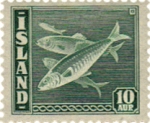 Icelandic trawler Helga Maria has returned to sea in its new role as a fresh fish catcher. The trawler, which was previously named the Haraldur Kristjánsson, and sister ship Sjöli HF, were Iceland's first freezer trawlers when they arrived at the North Atlantic nation 25 years ago.
However, their owners HB Grandi made the decision to convert the Helga Maria from a freezer trawler to a fresh fish one last year after deciding to focus more on processing its fish onshore and reducing the production frozen at sea.
The company contracted a shipyard in Gdansk to carry out the conversion, which was completed back in November. Skipper Eiríkur Ragnarsson said that all tests on the vessel have been completed in Reykjavik and it's now time to test it at sea. He said that the first trip will have 17 crew and four technicians on board, but the usual number of crew will be 15.
He went on to explain that it will be a demanding few days for the ship as the forecast is not good. He predicted that it is likely to be a tough time for the technicians. Eiríkur Ragnarsson has been working on the Helga Maria since it arrived in Iceland in 1989, first as chief mate, then relief skipper, before being made regular skipper in 1995.