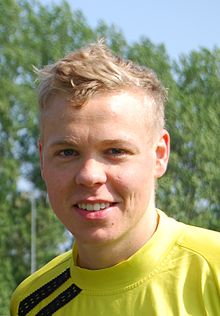 Icelandic hotshot Kolbeinn Sigþórsson is a target for Premier League high-fliers Liverpool, according to sources. The 23-year-old striker signed for Dutch Eredivisie side Ajax for £5m in 2011 and his performances in recent months have caught the attention of a number of Europe's leading clubs.
Kolbeinnn Sigþórsson has spent several years in Holland after initially leaving his homeland to sign for AZ Alkmaar in 2007. He has represented Iceland at all youth levels and is now a key player in their current 'golden generation' of stars.
Liverpool already have a good relationship with Ajax after signing Uruguayan Luis Suarez from them in 2011, and reports claim that manager Brendan Rodgers may be about to make his move this week.
Another Icelander who could be on the move is Cardiff City's Aron Einar Gunnarsson, who is on the radar of new Crystal Palace boss Tony Pulis. The Icelandic national team captain, who signed for the Welsh outfit in 2011, has had limited opportunities in the Premier League and Pulis sees him as a player who could help the London side in their fight against relegation.
A source said that Aron Einar Gunnarsson, who could be available for around £4m, is "hard-working and tough tackling but maybe limited technically", noting that he's exactly the type of player Pulis would go for. The source added that he's happy to hit it long and does a lot of running.