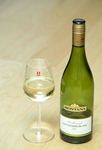 Despite mounds of evidence proving that drinking too much alcohol when pregnant is bad for the baby, a recent study has found that a weekly glass of wine during pregnancy could result in a better behaved child.
University of Copenhagen psychiatrist Janni Niclasen studied data on 100,000 pregnant women in Denmark from 1996 to 2002. Thirty-seven thousand of the women were then questioned seven years later for Niclasen's research. She found that although it was unlikely the better behavior was related to the alcohol, the wine acted as an indicator.
The psychiatrist found women that have one glass of wine a week are usually the most educated and lead the healthiest lifestyles – two factors considered beneficial for bringing up a child.
Wine drinkers shouldn't get too excited, however, as drinking alcohol while pregnant is still not recommended, with such things like miscarriages and fetal alcohol syndrome among the possible consequences.
Niclasen highlighted the point that she was not advising pregnant women to drink wine, noting that they are aware alcohol can interfere with an unborn baby's development and therefore it is better to stay away from it when pregnant. She added that she supports the government's recommendations to limit alcohol consumption during pregnancy.