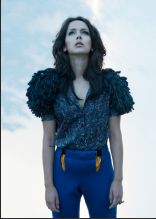 Polish pop singer Monika Brodka will perform in Iceland during Reykjavík's annual Culture Night on Saturday 24 August at Harpa's Silfurberg concert hall.
Brodka's career kicked off in 2004 when she won the Polish edition of Pop Idol TV show. She has since then released three albums, the two first of which turned gold in Poland, while her third album Granda received critical acclaim, both locally and abroad.
The Guardian described the album as "drawing on electro, rock and roots music, but remaining resolutely pop in its approach and execution, the record has a vitality and adventurousness that puts most of Poland's alt-rock acts to shame". Granda was certified double platinum in Poland in 2011.
The free concert will be performed at Harpa at 18:30 tomorrow in the frame of Menningarnótt, Reykjavík's Culture Night. The event is celebrated every year in August since 1996 and serves to mark the start of the city's cultural year, with a variety of free performances taking place in several venues across the capital.
For the complete list of events and activities taking place on Saturday, visit the official website of Menningarnótt.