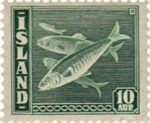 Iceland's Prime Minister Sigmundur Davíð Gunnlaugsson has claimed the European Union's ongoing campaign of threats is against international fish quota laws.
The EU has already imposed sanctions on the Faroe Islands after claiming the island nation has been over-fishing herring and mackerel. The commission, which is backed by Scottish fishermen, now wants to impose similar sanctions on Iceland.
The Faroese prime minister's office released a statement saying the government wants an international tribunal to be held in order to prove the EU is breaching its obligations outlined in the UN Convention on the Law of the Sea. It has requested that EU authorities are instructed to stop threatening or adopting coercive economic measures on the Faroe Islands.
Meanwhile, Iceland PM Sigmundur Davíð Gunnlaugsson has demanded that the commission withdraws its threats and instead turns to free negotiations to reach a peaceful settlement.
The sanctions against the Faroes will be brought in at the end of the month after member nations overwhelmingly supported the ban after learning that the Faroese government intended to decide its own quotas. The new legislation will prohibit EU states importing herring and mackerel from the Faroe Islands.
Both the government of Scotland and the Scottish Pelagic Fisherman's Association have welcomed the move.