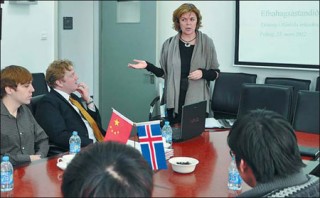 The Icelandic ambassador to China has said that US whistleblower Edward Snowden can only be granted asylum by Iceland if he is in the country.
Kristin Arnadottir explained in an emailed statement to the South China Morning Post that Icelandic law states that a person can only submit an application for asylum if he or she is in the country. She added that the Iceland Ministry of the Interior deals with issues such as these and handles all asylum applications.
In an interview with The Guardian, Snowden said that he sees Iceland as a place where he could be granted asylum. His desire to move to the north Atlantic nation comes at a time when the US National Security Agency is preparing to carry out an investigation into Snowden's leaking of the US government's secret eavesdropping programme.
The US is able to request that he is extradited from Hong Kong because of a treaty agreed in 1997.
However, Snowden said in his interview with The Guardian that he wants to seek asylum in a nation with shared values, noting that the country that encompasses these values the most is Iceland. He explained that Iceland supported people over internet freedom, but added that he has no idea what his future will hold.