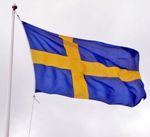 Gonorrhea cases in Sweden are increasing as bacteria in the sexually transmitted diseases is becoming stronger.
The number of recorded cases in the country went up from 951 in 2011 to 1,098 in 2012, a 16 percent rise, revealed new figures from the Swedish Institute for Communicable Disease Control.
The infection has been rising in the Scandinavian country since the mid-nineties, particularly among young people and gay men. The institute's Inga Velicko described the large figures as a 'worrying development'.
The disease is much more prevalent among males, mainly due to the fact that it can spread more easily among men having sexual relations together. However, there has also been a rise in the number of cases recorded among heterosexual couples.
Gonorrhea, if not treated, can lead to sterility, and many carriers, particularly women, see no symptoms from the infection. It can be cured with antibiotics, but researchers are worried that as the bacteria strengthens, the antibiotics may lose their effectiveness.
World Health Organization (WHO) Collaborating Centre for Gonorrhea and Other Sexually Transmitted Infections Magnus Unemo said that the increase was part of a global trend and has been happening for roughly five years. He added that the concerns over Gonorrhea rising, and there are now international recommendations for how best to treat the infection.
WHO estimates that there are 106 million cases of the infection worldwide.