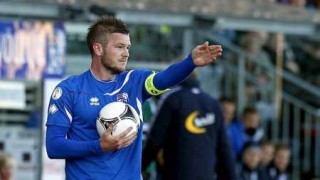 Iceland and Cardiff City star Aron Gunnarsson has suffered a suspected dislocated shoulder while on international duty.
The Icelandic captain, who has just help his club side win promotion to the English Premier League, endured a nightmare evening in Friday's World Cup qualifier against Slovenia in Reykjavík. He conceded a penalty before being carried off with his injury in what ended up a being a 4-2 victory for the visitors.
The 24-year-old left the pitch after a heavy fall in the early stages of the second half. He was replaced by former Chelsea and Barcelona star Eidur Gudjohnsen, who is now in the swansong of his career.
Current Iceland coach Lars Lagerbäck said that Gunnarsson, who lay on the pitched for several minutes before being transported to hospital, had suffered a serious shoulder injury before, and wished him a speedy recovery. He added that he the injury had a major influence on the result.
Lagerbäck said that in the early stages the team doctors were unsure to the extent of the injury. He explained that he felt the loss of his skipper had a huge impact on the game because the score was level at 2-2 prior to the incident. He said that after he went off, there was a change in the balance of the game.
Gunnarsson will have to wait and see how many weeks he is out of action for but generally a dislocated should takes up to 16 weeks to heal, meaning he would miss the start of the Premier League season in August.