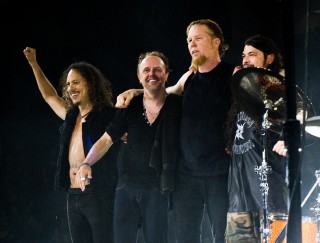 Metallica have been confirmed as one of the headline acts for this year's Roskilde Festival in Denmark.
The heavy metal band has only had a few concerts to date this year, and the festival is scheduled to be their only European performance this summer. However, it has yet to be announced the exact date Metallica will perform at Roskilde, which runs from 29 June to 7 July.
The band said in a statement that it's been a decade since they've performed at this festival and that they're looking forward to returning. The festival's organisers said upon announcing the news that the band will take a break from the recording studio, where they are currently working on their 12th album, to headline Roskilde.
The organisers went on to say that the "Kings of Metal" had not planned to perform in Europe this year, but that they eventually managed to secure an agreement for the band to return to the festival it last graced 10 years ago, when their incredible performance brought traffic to a standstill outside the venue.
Other bands that have been confirmed for the festival include Queens of the Stone Age, Suicidal Tendencies, Airborne, Volbeat, Slipknot and Hatebreed.