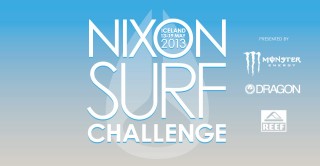 Vincent Duvignac has won the Nixon Surf Challenge 2013 in near freezing conditions just south of the Arctic Circle in Iceland.
Iceland is one of the coldest places on Earth to stage a surf competition, and the Nixon Surf Challenge is not for the feint hearted. However, Frenchman Duvignac proved his strength of character by impressively surfing the breaks off the country's coastline and being voted the victor by the other surfers.
The 25-year-old defied the freezing temperatures to score wave after wave, to add to his outstanding showing in the glacial water.
Elsewhere, Australian Chippa Wilson claimed the Best Trick prize ahead of second placed William Aliotti. Wilson is known for being one of the most naturally gifted surfers on the tour, and performed one impressive manoeuvre after another in what were regarded as extremely tricky conditions.
The other prize went to Jose Maria Cabrera of the Canary Islands who won the I Rocked Iceland award for his style and finesse in the water.
The Nixon Surf Challenge began as a group of surfers having fun and riding waves together, but over the last decade has developed into a highly-anticipated, invite-only event. The tournament focuses on free-style surfing and having fun, with competitors partying together in the evenings. At the end of the week, the surfers vote for the winners of the respective categories.