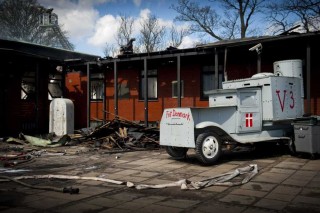 Following the arson attack that damaged the Resistance Museum in April new plans for the exhibits have raised controversy, as the curators move away from exclusively presenting the history of the Danish Resistance Movement.
"The context for visitors today is very different than for those who visited when it was first built," the National Museum stated in a press release. "So the question is whether the subject should still only be the resistance struggle or rather the entire occupation period in all its depth and complexity?"
Plans to include a broader scope of the history of Denmark under Nazi Occupation (1940-1945) have received the support of culture minister, Marianne Jelved (Radikale), but the opposition have waded into the matter, saying; "The resistance museum is for freedom fighters and the new museum should be built in the same spirit as when it was originally built."
Christian Eugen-Olsen, the chairman of the memorial organisation for freedom fighters, Frihedskampens Frednings- og Mindefonden, also disagreed with the National Museum's new approach.
"The primary objective of the Resistance Museum should be telling the story of the resistance struggle, not the general story of the occupation."
A meeting has been scheduled for June 10th to debate the issues but the museum seems determined to start afresh with a new version of the period.
"It would be worrisome if the museum attempted to give a singular story because reality is rarely simple, especially for those who chose to join the resistance movement," the National Museum stated. "And that's why we also need to consider the other options and understand the forces that were pulling in the opposite direction."