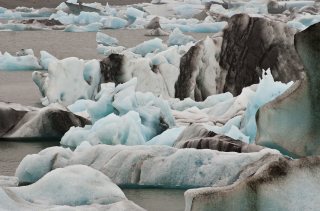 According to the Icelandic tourist board, tours to Iceland's glacier lagoon Jökulsárlón are on the rise as the summer vacation season fast approaches.
Considered to be one of the greatest natural wonders of Iceland, Jökulsárlón is located in the southeast of the country, and borders the Vatnajökull National Park. Situated at the head of Breiðamerkurjökull, it evolved into a lagoon after the glacier started receding from the edge of the Atlantic Ocean.
Over the years, Jökulsárlón has been a setting for some of Hollywood's biggest movies, including A View to a Kill, Die Another Day, Tomb Raider and Batman Begins, in addition to the reality-TV series Amazing Race.
With this in mind, Reykjavik Excursions, a leading tour provider in Iceland, is offering tours to Jökulsárlón from Reykjavík.  The tour is ideal for those wishing to visit and experience some of Iceland's most impressive sights.
The tour not only provides travel to Jökulsárlón, but allows guests to see some of Iceland's finest wonders along the way, such as Skaftafell National Park, and Hvannadalshnjúkur, the highest mountain in Iceland.
Jökulsárlón is a stunning glacial lagoon home to Icebergs of all shapes, sizes, and colours. Guests will have the opportunity to walk the shores of the lagoon, and capture the magnificent scenery. For a more intimate view, visitors are also allowed to board a boat and sail amongst the oddly-shaped ice formations.
Furthermore, Reykjavik Excursions offers free Wi-Fi on its tours. This free Internet connection allows passengers to interact with their friends and family whilst exploring the magnificent Jökulsárlón glacier lagoon.
To find more about tours to Jökulsárlón, visit http://www.re.is/DayTours/NatureHistory/Details/Reykjavik-Jokulsarlon-With-Boat-Tour/.