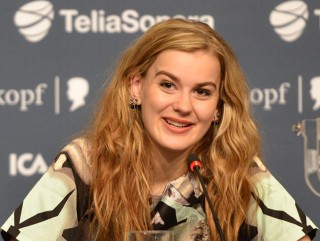 The 2013 Eurovision Song Contest winner Emmelie De Forest's debut single has entered the British Top 40 charts at number 15.
The Danish singer's hit, Only Teardrops, follows a long list of Scandinavian Eurovision winners' singles to achieve success across Europe. Her single comes on the back of 2012 Swedish winner Loreen and 2009 Norwegian winner Alexander Rybak's successful Eurovision winning entries in previous years.
Only Teardrops has not only performed well in Europe, it has also reached the Australian Top 40, highlighting the fact that the Eurovision Song Contest is popular even outside the continent.
In the past, winners of the contest have regularly entered the UK's top 40, but few have entered as high as De Forest. In 2010, Lordi of Finland reached number 25, while 2010 winner Lena, from Germany, only got to number 30, despite her single, Satellite, being a massive hit across the rest of the continent.
However, the last Danish act to win the song contest, The Olsen Brothers, did not manage to make it into the UK Top 40, even though their winning song was a success in most other European countries.
De Forrest won the Eurovision Song Contest in Malmo, Sweden, earlier in the year, seeing off competition from second placed Farid Mammadov of Azerbaijan.