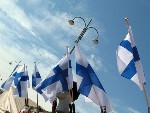 The Finnish Hockey team came home from Stockholm without medals to boast after the world No. 2 team lost out on penalties to the United States in Sunday's Bronze medal match.
At the recent World Men's Hockey Championships, which were co-hosted between Helsinki and Stockholm between May 3 to 19, Finland lost to the Scandinavian rivals and eventual winners in the Semi Finals, and were again beaten by sixth ranked USA on penalties, both games in Stockholm.
Thinking they had the game wrapped up, going 2-0 up in the third quarter, the Americans let the Finns back into the game when Lauri Korpikoski found the net twice in three minutes to level the score and force a shoot out.
Alex Galchenyuk was the hero for the underdogs, twice succeeding on penalties to finish up 3:2. They were unfancied to reach the semis and had not previously won a medal in nine years. For the Finns, who were seeded third, it will be a disappointment. Meanwhile the much rated Russians and Canadians failed to get out of the quarter finals.
Surprise package of the tournament was Switzerland, currently ranked 7th in the world, who were the only unbeaten side going into the finals, but were outclassed by the top seeded Swedes, losing 5-1.