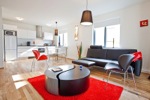 Reykjavik4you has been ranked second out of a total of forty-six in the speciality lodging in Reykjavík category on the popular travel website TripAdvisor.
Users on TripAdvsior have rated Reykjavik4you 'excellent', which has resulted in the hotel in Reykjavík being listed at number 2. One TripAdvisor user from the UK stated:
"(We) stopped here for a week in early February and I have to say we were really impressed with the studio apartment we had. It had everything you needed to be a home from home. We arrived late evening and were still welcomed with an efficient check in. Their apartments were lovely and warm with a cooking area that is sufficient enough having everything you needed to cook a meal. The apartment was cleaned everyday as well. You're a stones throw away from a wonderful bakery and a short walk from a supermarket. The centre of Reykjavik is around a 2 minutes walk away so your close to the night life and yet far enough away to not hear the noise. Iceland is very expensive so this option is a great way to still enjoy the island yet self cater at reasonable prices. Lastly, go to Iceland its a fantastic place we loved it."
All of the apartments with Reykjavik4you are fully furnished including the kitchen, allowing you to cook every night if you wish. Furthermore, all of the apartments come equipped with a flat screen TV, where you can relax on a comfortable sofa.
Reykjavik4you's apartments are all located within short walking distance from Reykjavík's main attractions and facilities. Laugavegur and Skolavordustigur, Reykjavík's main shopping streets are just a walk away, accommodating a variety of quaint fashion boutiques, cosy coffee shops and top quality restaurants.
For more information regarding lodging in Reykjavík, visit www.reykjavik4you.com. In addition, to read more reviews on TripAdvisor, click here.