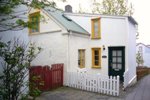 Icelandic apartment owners wanting to provide tourists with short term rental accommodations have received notices from police, who can lawfully intervene without advance warning on any property which is rented out without a license.
Due to the tourist boom in recent years, it has become increasingly popular for Icelanders to rent out their apartment to tourists in the summer, with close to 800 private rooms and apartments in Reykjavik listed on the popular peer-to-peer rental website Airbnb.
However, most people are unaware of the fact that licenses from the local health authority and Icelandic Tourist Board are required for all apartment owners wanting to rent their property on airbnb.com and similar sites, while it is also required from them to pay taxes on such income.
It is speculated that many young and unemployed Icelandic citizens rent out their property for extra income. As a clear indicator of the popularity of Airbnb among Reykjavik residents, the number of private apartments listed in much more populated Nordic cities such as Helsinki and Oslo is 400 and 300 lodging options respectively.