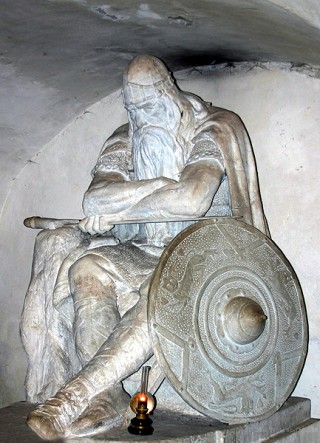 Locals and politicians alike are protesting the sale of a statue of one of Denmark's most famous folk heroes, Holger Danske, to foreign art collectors. The two tonne statue in question is one of three Holger Danske statues located in the Zealand community of Helsingør.
Helsingør's Hotel Marienlyst first commissioned the Holger Danske statue, presently for sale, in 1907. During an interview with the BT tabloid, hotel owner Ulrik Finnemann said he first tried to sell the bronze statue to public institutions before uploading it onto the Lauritz.com auction website.
"We have been approached many times by potential buyers and we hope the statue will find a new home somewhere more centrally located," Finnemann said in his BT interview. "I think the buyer would have an interest in putting the sculpture somewhere public."
Politicians from the far right Dansk Folkeparti (DF) would rather see the Danish government purchase the statue than see it end up in foreign hands. Pia Kjærsgaard, the values spokesperson for Dansk Folkeparti, said the Danish government should buy the statue and display it outside the Christiansborg parliament building.
Another Dansk Folkeparti politician, Morten Messerschmidt, said to the Berlingske newspaper, "I think the culture minister needs to make a friendly phone call with a museum, such as the Nationalmuseet, and ensure that it buys the Holger Danske statue."
During his Berlingske interview, Messerschmidt also expressed his disappointment that Slotte & Kulturejendomme, Denmark's palaces and cultural properties, refused an offer to buy the statue.
According to a report in the Copenhagen Post, the online auction for the statue is scheduled to last another 10 days and the bid price has soared up to 3,730,000 Danish kroner as of 15 April. Holger Danske has been one of Denmark's most popular folk heroes since he became the subject of an opera written in 1789.