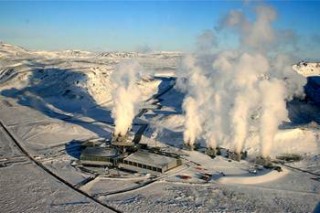 As part of the upcoming programme for the Iceland Geothermal Conference 2013, field trips will be taking place to visit two geothermal areas renowned for its energy resources, which is unique for a geothermal conference.
The Iceland Geothermal Conference, IGC 2013, will be providing field trips to the geothermal area of Hengill, and the resource park of Reykjanes.
Hengill is an active volcanic ridge, situated in the southwest of Iceland.  The area is an important source of energy for the country, which is processed at the Nesjavellir geothermal plant and Hellisheiði power station.
The purpose of the Hellisheiði power station is to meet the increasing demand for electricity and hot water for space heating in the industrial and domestic sectors. The production capacity of the electricity is 303 MW and 130 MW of thermal energy.
The second trip is to the resource park of Svartsengi, located on the Reykjanes peninsula. The Resource Park in Svartsengi was first defined in 1988-1989, although it can be said that its operation started a decade earlier, or in 1977, when the Suðurnes area's Heating Utility (now HS Orka) started production of electricity using geothermal steam.  The power plant in Svartsengi was one of the first geothermal power stations in the world to produce both electricity and hot water for heating houses.
The Iceland Geothermal Conference 2013, to be held at the Harpa Conference Centre in Reykjavik, Iceland, between 5th and 8th March 2013, will be the place to meet for utilities, investors, vendors, regulators, and government bodies to take an in depth look at the major steps in geothermal projects.
Amongst the speakers confirmed for the conference include Thomas DeLeo, Sithe Global; Jay Nathwani, U.S. Department of Energy; Dr. Silas Masinde Simiyu, GDC; a keynote from Professor Jefferson W. Tester, Cornell University; Prof. Roland N. Horne, an influential figure within the field of both geothermal and petroleum energy research; Dr. Mike Allen, Geothermal New Zealand initiative; and Sri Mulyani Indrawati, Managing Director of the World Bank.
Furthermore, on day 3, a geothermal brokerage event will take place, giving participants the opportunity to meet and exchange information between possible technological/business partners. Additionally, a brand awareness exhibition will be running during the conference days.
For more information regarding the Iceland Geothermal Conference 2013, visit http://www.geothermalconference.is.