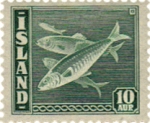 Iceland's government has substantially reduced the country's mackerel quota for 2013. Officials from the Icelandic Ministry of Industries and Innovation said that the annual limit would be lowered by 15 percent (to 123,182 tonnes) from the quota seen in 2012. The agency said that the move comes in response to new recommendations issued by the International Council for the Exploration of the Sea (ICES).
Industries and innovation minister Steingrímur J Sigfússon said in a statement, "Iceland is taking fewer mackerel from the sea in 2013. The 15 percent reduction in the weight of our catch aligns with the recommendations from international scientific experts. Our 2013 mackerel quota continues our efforts to help preserve the mackerel stock, which is our top priority," The Fish Site reports.
The news comes amid growing tensions between Iceland and other North Atlantic fishing economies, which have criticised Reykjavik for allowing the country's fisherman to take larger amounts of mackerel from territorial waters in recent years. Experts and European officials have called the practise unsustainable, although Iceland has continued to defend itself by saying that the fish are showing up in its waters in larger numbers and are staying for longer periods.
Sigfússon also urged neighbouring fishing nations to resume negotiations after Reykjavik's latest Coastal States proposals were rejected by the EU and Norway.
He said, "We are willing to further reduce our catch if other Coastal States agree to do so as well. We need to work as partners to protect the mackerel stock, and Iceland is ready to take this important step so we can reach a reasonable agreement together. I hope the Coastal States will return to the negotiating table with us to discuss concrete proposals."