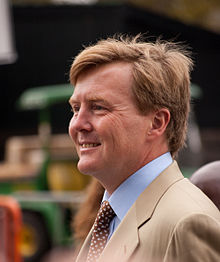 The Netherlands' king-in-waiting has a Finnish ancestral background, the Helsinki-based YLE news agency reported. The link comes via Prince Willem-Alexander of Orange's father, Claus Amsberg, whose ancestors from the Horn family resided near the village of Pori in Finland, which was under Swedish rule in the Middle Ages.
Amsberg is one of a very limited number of European royal figures with ethnic roots in the Nordic country, and according to the YLE report, Prince Willem-Alexander will become the only king elsewhere in Europe to have ever carried Finnish blood.
The lineage of Prince Willem-Alexander, who in April will take the Dutch throne from his mother Queen Beatrix, came into the spotlight last year after Finland-based genealogy researcher Kim Sjöström published a detailed report of his background in the Journal of the Foundation for Medieval Genealogy.