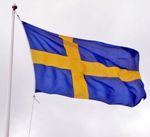 Swedish people more likely to win a battle with cancer than their British counterparts, new research has shown. The news comes via a fresh report published in the British Journal of Cancer, in which researchers revealed their findings following an effort to establish a correlation between cancer survival rates and how willing patients are to seek medical treatment.
Scientists compared data regarding cancer and patients' perception of the disease in six nations: Sweden, Norway, Canada, Australia, Denmark and the United Kingdom.
The study found that Britons have a lower chance of survival than other nations studied. The report said the chance of survival for at least one year after diagnosis was 44 percent for Swedes, whist the figure was only 30 percent for British patients.
They also discovered that Britons are generally less willing to go to the doctor, whilst Swedes are more likely to seek medical advice at the earliest signs of cancer.
In addition, Swedish residents proved to be more knowledgeable about cancer risks than other nationalities in the survey. The report found that some 38 percent of Swedes had a good awareness of cancer risks, while the figure was less than half of that for both Danes and Brits.