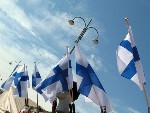 The Canary Islands are still the number-one package holiday destination choice among Finns, new figures have shown. According to a report issued by the Helsinki-based YLE news agency, the Spanish archipelago is still winning the race against Mexico and Thailand – two destinations that have seen massive growth in Popularity among Finns in recent years.
The Canaries have been the country's most popular sunny getaway for nearly four decades, and some 250,000 Finns are expected to holiday in the archipelago in 2013 alone. In 2012, Tenerife hosted around 100,000 Finnish tourists, whilst Gran Canaria saw about 130,000 – the highest number of Finns among the islands' various destinations.
Residents in the Canaries say that Finnish tourists are now seeking more diverse holidays than in the past.
Local restaurant owner Aki Korhonen, whose business is located in the Gran Canaria community of Playa del Ingles, told YLE reporters, "Finnish tourists are more quality conscious now than 10 years ago. Tourism has cleaned up and there's a lot less boozing."
Similarly, Jussi Ahtiainen said on behalf of tour operator Tjäreborg, "People want activities—bike rides, marathons."
The Canaries have experienced substantial growth in tourism in recent years, despite Spain's ongoing financial woes. The holiday hotspot saw a year-on-year increase of one million extra visitors last year, largely due to Europeans being deterred by the Arab Spring phenomenon.