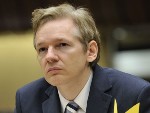 Principal shooting has begun on a Hollywood movie based on the story of Julian Assange and his controversial whistle-blowing website Wikileaks. According to a Washington Post report issued last Wednesday, crews are on location in Reykjavik for early production with stars Benedict Cumberbatch (Assange) and Daniel Bruhl, who is playing one of Wikileaks original co-founders who eventually cut off his relationship with Assange.
According to director Bill Condon, the feature is to offer an un-biased, non-judgemental view on Assange and the effects of the controversial website. He told the media the film will "explore the complexities and challenges of transparency in the information age", writes the Washington Post report.
Among other actors appearing in the DreamWorks production, Laura Linney and Dan Stevens have been cast to play supporting roles, whilst the Screenplay comes via the likes of Josh Singer, whose recent work includes the hit American TV drama West Wing.
The film is slated for release late in the autumn.