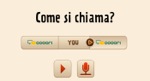 LingoWorld, a newly launched language learning app by Cooori, has gained worldwide attention during the first week of its release, receiving over 20,000 downloads. Cooori focuses on web-based language learning solutions.
We couldn't be happier with the interest and positive attention that LingoWorld has received. It has outperformed all expectations in the first week alone. With U.S., China, and Japan as our best performing countries and Spanish, Japanese, English, French, and Italian as our bestselling languages, it's exhilarating to see where this will lead. We are very positive and looking forward to driving the progression of language learning even further," explains Arnar Jensson CEO of Cooori.
LingoWorld is a new iPad and iPhone app for iOS, which allows users to quickly and effectively learn basics phrases in 10 languages, including Icelandic.
The app is designed so that its users can learn essential words and phrases in a short period of time. The app is built on a core of Artificial Intelligence, which adjusts to each user's learning ability, ensuring that each user gets the most out of even short learning experiences.
As part of LingoWorld, users will be able to practice pronunciation, look up words and phrases, closely monitor their own progression, develop language skills, and understanding all from the comfort of their mobile or iPad device.
LingoWorld enables users to learn common phrases and basic words in Chinese, English, French, German, Japanese, Icelandic, Italian, Korean, Spanish and Thai.
To learn about regarding LingoWorld, visit http://www.cooori.com/lingoworld_language_learning_app_by_cooori/.