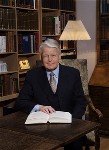 Iceland's premier has said that Reykjavik is to set up a wealth fund ahead of a potential offshore oil boom to protect the country's revenues. President Olafur R. Grimsson's comments came during an interview in London in which he told the media, "Since we look at this resource as a national wealth, there will be a national wealth fund that would be established, but this is more of a general policy at this time," Bloomberg reports.
The news comes as the North Atlantic nation has begun authorising foreign exploratory firms to launch new operations in its territorial waters. Officials announced earlier in the month that a licence had been issued to Faroe Petroleum Plc, while additional licences have been awarded to Norway's PetoroAS and UK-based Valiant Petroleum plc.
Grimsson told reporters that the regulations on the industry would mirror those of the country's existing geothermal programme and would be, "within the framework of the Nordic as well as European cooperation." He went on to add, however, that the country's economy will likely not see any substantial benefit in the immediate future, noting that the explorers first, "have to do their work. It will take some years."
Reykjavik will also reportedly implement anti-spill initiatives in cooperation with the Arctic Council and its member states, which include Russia, the United States, Canada, Norway, Sweden and Finland.