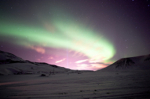 According to scientists, the beginning of 2013 will see an increase in Northern Lights activity, especially in Iceland, due to intensifying solar flare discharge.
The increased Northern Lights activity is caused by solar flares which eject charges of atoms and electrons into space usually reach the Earth a day or two later. During this travel period, these flares grow in intensity, before finally reaching the Earth's atmosphere. This collision with the Earth's air molecules then causes energy in the form of spectacular lights to be emitted.
Due to Iceland's location on the cusp of the Arctic Circle, these Northern Lights shows are set to be incredible. Iceland is known for being a hub for Northern Lights activity, with various trips and tours taking place everyday during the winter and spring months.
In light of this, Iceland tour provider Reykjavik Excursions is offering an incredible Northern Lights tour to see Mother Nature's greatest spectacle.
During the Northern Lights tour, guides take sky-gazers to locations with the best viewing possibilities, dependent on weather. Here, lucky viewers will get the chance to experience the dancing lights of the Aurora Borealis.
Reykjavik Excursions is a fully licensed tour operator and travel agent and is the leading organiser of day tours in Iceland. Reykjavik Excursions operates one of the biggest bus fleets in Iceland, making the company one of the largest organisers of tours both for individuals and groups in Iceland.
For more information regarding Northern Lights tours in Iceland for 2013, visit http://www.re.is/DayTours/Activity/Details/Northern-Lights-Tour-Oct-March/.