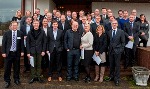 Earlier this week, the first meeting of a new cluster partnership within the Icelandic travel industry took place at the Nordic House in Iceland's capital, Reykjavík.
Over 40 organisations entered the one year partnership agreement with the international consulting company Gekon for the management and mapping of the travel industry in spirit of Economist and cluster specialist Michael Porter.
Amongst the participating organisations are key companies within the Icelandic travel industry, public bodies, and a number of businesses that support or cooperate with the tourism industry. One of the key objectives of the cluster partnership is to increase competitiveness and value creation within the Iceland's travel industry.
Four lectures were given at the event; Hákon Gunnarsson, CEO of Gekon, discussed cluster management; Dr. Eyþór Ívar Jónsson, CEO of Klak Innovation Centre, focused on cluster collaboration as a tool for innovation in the industry; Ingibjörg Guðjónsdóttir from the Icelandic Mountain Guides and SAF explained the expectations of tourism in relation to the project, and Rósbjörg Jónsdóttir from Gekon gave a talk on the objectives of the project overall.
The cluster of organisations is divided into 3 main categories: first, companies from all sectors of the tourism industry; second, members from industries that support tourism, and third, government agencies and tourism organisations. Organisations involved include Valitor, 66° North, Arion Bank, Icelandair, Nordic eMarketing, and Reykjavík Excursions.
The cluster is expected to grow significantly over the coming weeks and months as all are welcome to participate in the partnership.