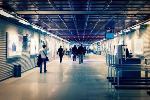 Iceland's main international airport, Keflavík International Airport (KEF), saw a record breaking increase in passenger traffic during the summer months of 2012 – the airport in Iceland predicts this passenger increase to grow throughout the rest of 2012.
KEF saw a 9 percent increase in passenger traffic during its busiest months in 2012 than those of 2011. The airport continues this increase with a 19 percent increase in September, and predicts a 19.8 percent increase in passenger traffic until the end of 2012 – with a total of 2.4 million passengers predicted during the whole of 2012.
Icelandair has announced it predicts a 15 percent increase in 2013 compared to 2012; the airline's predicted rise in passenger numbers is relatively higher in the winter season, which includes six new destinations, and in turn, will be utilising KEF's off-season facilities.
Additionally, Iceland Express has announced it predicts a 30 percent higher passenger capacity in 2012, with plans to resume flights to the U.S., and increase flight frequency in Europe.
New flight operator WOW air plans to double its flight capacity with added destinations and increased flight frequency – the airline operates on two regular and several periodic routes during the winter season.
Norwegian Air and easyJet both plan winter operations in Iceland; easyJet aims to increase flights for the winter season, and to add more destinations for summer 2013.
SAS continues established year round service to Oslo.
Keflavík International Airport's operator, Isavia, has complemented this passenger increase by upgrading the Leifur Eiríksson Air Terminal. Amongst the upgrades include its terminal waiting areas and access, and its automatic check-in service – KEF continues to maximise efficiency of its facilities with new pre-boarding lounges and relocating various support functions.
To find out more regarding Keflavík International Airport, visit http://www.kefairport.is/english/.
KEF has released the latest edition of its trade magazine, Airmail, which features up-to-date information on its business facilities. Click here to view it online.
Image: ©OZZO Photography