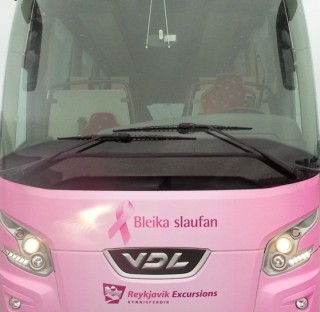 Throughout October and November, the Icelandic Cancer Society will be receiving donations from every Reykjavik Excursions' Iceland airport transfer ticket sold in order to raise money for breast cancer awareness.
In light of it being breast cancer awareness month, Reykjavik Excursions will be donating money from the sales of its popular airport transfer bus service, FlyBus until the end of November 2012.
Additionally, to help spread the message further, one of Reykjavik Excursions' coaches will be painted pink, displaying the iconic pink breast cancer awareness ribbon.
The Icelandic Cancer Society is a nation-wide, voluntary organisation established 56 years ago, to promote knowledge and understanding about cancer and cancer prevention; support cancer research; promote screening for cancer, and to support progress in the treatment and care of cancer patients.
As part of the Flybus airport transfer service, passengers are transported from Keflavík International Airport to Iceland's capital, Reykjavík, and vice versa.
The Flybus is scheduled with all arriving and departing flights in mind in order to offer a reliable, efficient service. The Flybus stops right outside the Leifur Eiríksson terminal and takes passengers straight to Reykjavík city.
To find out more about Reykjavik Excursions' Flybus, visit https://www.flybus.is/PinkRibbon/.