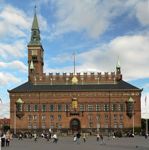 Last Friday saw the Danish capital release its budget scheme for 2013 which will see the city seek to enhance green projects and boost investment in education, as agreed upon by Mayor Frank Jensen and his Socialdemkraterne party, as well as by officials from the Socialisitisk Folkeparti, Radikale Venstre, the Liberal Alliance and Enhedslisten parties.
Projects outlined in the document include extending public school hours, amounting to some DKK 4.1 million (EUR 550,000) per year, as well as refurbishments for six schools in the city. Additionally, officials opted to dedicate some DKK 150 million (EUR 20 million) for a forthcoming European School that will look to provide international education for foreign workers.
The budget also set aside DKK 300 million (EUR 40 million) for green energy projects in order to continue the capital's efforts to be among the world's greenest cities.
Mayor Jensen said in a statement, "It is important to me that Copenhagen is not just a city for the elite. Everyone should be able to afford to live here and have a good life, so we are including funds for renovation and construction of public housing and to help at-risk children, including free club services and inexpensive school meals," the Copenhagen Post reports.
He later added, "I am really pleased that we have managed to take a giant leap towards making Copenhagen one of the world's greenest capitals."