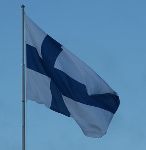 The new rail line between Vantaa Airport and central Helsinki will be delayed by several months, according to reports.
Reporters from the Helsingin Sanomat news agency said at the weekend that the opening of the forthcoming Ring Rail link, which was initially set to open in 2014, will be delayed by a minimum of six months as a result of an ongoing chemical leak in the Ring Rail tunnel.
Glycol, which is sprayed on aeroplanes to prevent flight-crippling icing during takeoff, had reportedly been found leaking into in the excavation site below the airport in 2010. The report said that complications remain despite many attempts to remove the chemical.
Experts say the chemical corrodes concrete and steel and thus shortens their lifespan. As a result, officials say the line to the airport will not begin transporting passengers until mid-2015 at the earliest.
Despite the news, construction elsewhere for the Ring Rail project remains on schedule. The portion stretching from Tampere and Hämeenlinna to the outer ring road will be completed at the end of next summer, according to project officials. The total cost of the project is estimated to amount to EUR 655 million; funding is being provided by the Finnish Transport Agency as well as airport operator Finavia and the City of Vantaa.