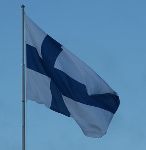 Health officials in Finland have said that average cholesterol levels in Finland are rising amid the popularity of low-carbohydrate dieting.
The news came via the 2012 FINRISK report issued by country's National Institute of Health and Welfare (THL). It revealed that in the five-year period from 2007 to 2012, the average level of cholesterol among Finnish men rose to 5.34 millimoles per litre (mmol/L) of blood from 5.25 mmol/L, whilst the figure for women rose from 5.15 mmol/L to 5.31 over the same timeframe.
Expert say that this the first time in decades that the figure has risen, and cite the ongoing trend of eating fatty and starchy foods instead of complex carbohydrates in the effort of losing weight.
THL officials said in the report, "Significant factors contributing to the rising levels of cholesterol in Finland are the widespread use of butter-based fat spreads as well as consumer ignorance of their nutritional effects: most butter-based fat spreads contain a lot of saturated fatty acids that raise cholesterol, while polyunsaturated fatty acids reduce cholesterol," the YLE news agency reports.
The FINRISK study, which is conducted every five years in the Scandinavian country, samples individuals from Helsinki, Turku, Loimaa, Vantaa and regional populations in North Savo, Kainuu, North Karelia, North Ostrobothnia and Southwest Finland.